DARPA Calls for More Accurate Independent Timekeepers
By Aaron Recksiek, CW21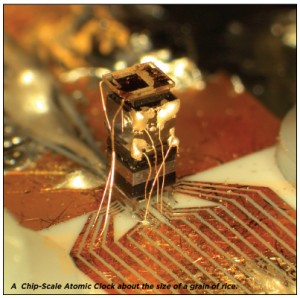 In our modern world, much of how we communicate and navigate is dependent upon perfectly accurate timekeeping, accurate to the atomic level. So far, much of this is done by synchronization and calibration with a reference signal received by GPS, radio frequency, or cell towers. Even in the clock and watch industry, more and more timepieces are produced each year that receive synchronization with a master clock, especially with the growth and popularity of smartwatches.
    The Defense Advanced Research Projects Agency (DARPA), a division of the United States Department of Defense, is looking for more accurate and stable independent timekeeping devices. There has already been a lot of research and development of Chip-Scale Atomic Clocks (CSAC) since their first introduction in 2004. The current standard of timekeeping in a CSAC is +/- .00000000001 second in a stable, controlled environment. Over the last 10 years, however, there have been constant limitations with these clocks, sometimes the size of a grain of rice. Cost has always been a factor as well as differences in frequency with temperature fluctuations and loss or reduction of power—some of the exact same problems we encounter with
mechanical and quartz timepieces.
    In December, 2015, DARPA announced the plans for the program Atomic Clocks with Enhanced Stability (ACES). The goal is to essentially duplicate what the famous British clockmaker John Harrison did nearly 300 years ago when he unveiled the H1, a marine clock capable of allowing ships to navigate more precisely. This earned Harrison £20,000, or £2.81 million in today's equivalent. DARPA has designated at least $50 million to initially fund ACES, with the hopes that a more reliable atomic clock can be created. The requirements of the program are to create portable clocks that perform 1,000 times better than the current generation. They must be shock resistant and capable of withstanding extremes in environments and temperatures. The final product must also fit completely within an enclosure not exceeding three cubic inches, including all associated electronics, and run on .25 watt of power or less.
    The need for these devices is multifaceted. The reliance solely on GPS synchronization has become too much of a problem. In the cases of an aircraft, ship, or soldier veering out of GPS signal, the uncertainty of location or orientation becomes exponentially compounded the more time spent out of range. The need for these clocks would become even more critical in the case of a complete loss of the GPS system. Every division of the Defense Department would benefit from the advance of this technology, not to mention the hundreds of industries that could also benefit from its use.
    DARPA is hosting a Proposers Day at their headquarters in Virginia on February 1, 2016, where all interested parties can come together to have questions answered, present ideas, and network with other professionals leading into the beginning of this project. Registration for the event ended on January 25.
Sources:
www.darpa.mil
www.fbo.gov
Aaron Recksiek is an independent watchmaker in Salt Lake City, Utah. He is a graduate of the 2008 WOSTEP class at the Lititz Watch Technicum.