It has been my pleasure to serve as your president for these past
two years.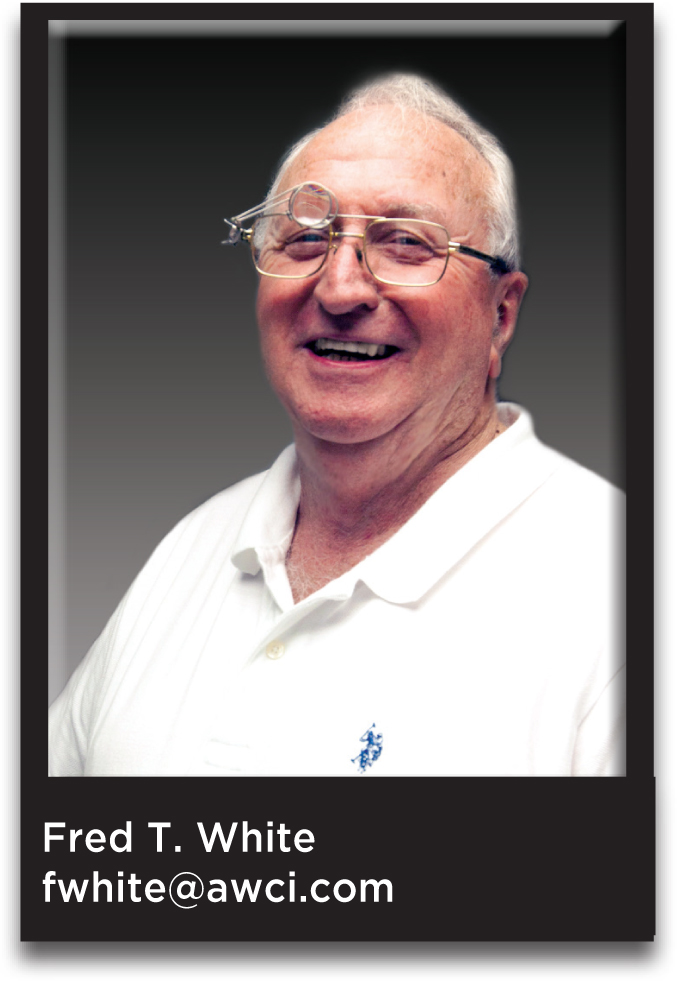 The past two years have been very busy and have gone by very fast. It seems like only yesterday that I was elected president of AWCI's Board of Directors in my hometown of Clinton, Maryland. We finished that convention on a note of hope for the organization, looking forward to getting some things done. One objective was to shorten our BOD meeting to one hour or, at most, one hour and a half. We did accomplish that. One of the most difficult things that I had to overcome was understanding the role of the president of this organization. I can say it took a good six months to get a feel for it. It is a very complex job that you spend many hours each week working on. There are emails and phone calls and some very complicated decisions that have to be made. Some you make and hope the BOD will go along with, while some you just put off until the next board meeting.
     Thanks to a group of dedicated people that serve on committees, subcommittees, and our Board of Directors, we were able to get some things done. In November 2014, we passed an amendment to our policy manual that provided funding to have speakers and educational programs brought to our Affiliate Chapters. We revised our online "Find a Professional" to make it more user-friendly, and made it so you could add your certification and a bit of bio about your qualifications as a craftsperson.
     We sent a letter to membership about the attempt to restructure our membership, because most people did not like the way it was going. We also made a decision to purchase a digital microscope for the classroom and to replace a HVAC unit. In February we made the decision that the theme for the 2015 convention would be: "Join us in the heart of America as AWCI celebrates the rebirth of the American Watchmaking spirit." Kansas City here we come! It was a great convention; everyone came away with uplifted spirits.
We have made some changes in the BOD structure. We will be down to six elected board members. The REC chair will no longer have a vote on the BOD, which gives the members you elected more power on the board. There have been some changes in the bylaws and the policy manual, all of which you can read for yourself online.
     March 11 and 12 we got together at headquarters in Harrison, Ohio, for the mid-year conference, which is required by our bylaws, to discuss the state of AWCI. I am happy to report that we are in good condition financially. Our classes are being utilized to close to capacity. We have started some cooperation with NAWCC: we look forward to exchanging instructors to teach specific classes. These two days in Harrison were filled with reports, discussions, and decision making by a dedicated group of people who give of their time freely without pay, just for the satisfaction of knowing they may do some good for the horologist. For more details about what has happened in the past years, read the minutes online.
     The BOD has had a conference call meeting just about every month. I am happy to report that most committees are busy doing what they should be doing. It has been my pleasure to serve as your president for these past two years. My hope is that history will look favorably on my service. Thanks to the two boards that I have had the pleasure of working with. They are truly great men and women.