The Research and Education Council (REC) is the AWCI entity that promotes education within the horology industry. Schools who participate in the REC, along with AWCI, all strive to provide a quality educational product. Our mutual goal is to help develop the highest degree of knowledge, technical expertise and professionalism in the horology industry.
There are three types of horology curricula within the REC watchmaking schools. The WOSTEP and SAWTA programs follow curricula developed and overseen by their respective organizations. Each has different attributes and requirements for a watchmaking education. Quality education is also provided at schools with a Traditional Curriculum. The three types of programs are described below.
AWCI's ELM Trust Offers Annual Scholarships
Each year scholarships are awarded to students at REC schools from AWCI's ELM (Education, Library and Museum) Charitable Trust. The Harold J. and Marie Borneman Greenwood Memorial Fund of the New Hampshire Charitable Foundation was set up to assist watchmaking students. The Foundation distributes the interest earned by the Fund annually to the AWCI ELM Charitable Trust. The ELM Charitable Trust distributes the funds equally to schools/students who meet the directives given in Article IV, Section 4 of the ELM Trust Bylaws. The recommendation, made by the REC instructor, may be based on financial need or exemplary student achievement as determined by the instructor.
The SAWTA Program
SAWTA stands for Swiss American Watchmakers Training Alliance. The Swiss American Watchmakers Training Alliance (SAWTA) currently collaborates with the three largest watchmaking schools in the United States, having a combined capacity of 42 students per year. These schools are the Lititz Watch Technicum, the School of Watchmaking at OSUIT, and the Watchmaking Department of the North Seattle Community College. 
Students of the SAWTA curriculum receive an intense and comprehensive training in all relevant aspects of high grade after-sales service. Its contents consist of movement service, case and bracelet repair and refinishing, estimating, parts logistics, quality control and customer consultation. The SAWTA certificate, which is granted upon successful completion of a two-year curriculum, includes various examinations. It testifies to the skills and knowledge required for a wide array of career opportunities in the field of watchmaking. This profile ranges from an independent watchmaker in a retail environment, where a wide variety of tasks are performed, to a service center setting with a high degree of specialization.
A project-oriented pedagogical approach, using exclusively high quality training materials, tools and equipment, provides a balanced development of technical skills and theoretical background knowledge. This is essential to impart the strong problem-solving skills needed to succeed in demanding positions, and to build solid careers in the high-grade watch service.
Traditional Curriculum
Schools with a traditional curriculum have degrees that can be accomplished from just under a year's time up to 15-month programs, depending upon the options you choose. You'll find most programs focus on mechanical wristwatch repair. However, you can extend your knowledge base with additional courses in quartz and electronic watch repair, vintage repair, jewelry repair and even clockmaking courses. One school offers a full clockmaking degree.
AWCI also offers supplemental watchmaking and clockmaking courses.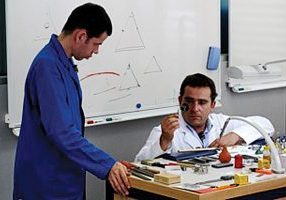 The WOSTEP Program
Since 1966, WOSTEP has provided services for the Swiss watch industry and its representatives around the world, as well as for independent watch makers in Switzerland and abroad. These services are constantly adapted to fit the needs of quality after-sales service.
The WOSTEP Program features:
Courses given by a WOSTEP-approved technical team
Candidates must be minimum 18 years old, and have a High School Diploma or GED
Certificates and diplomas are recognized by the Swiss watch industry and its representatives around the world
WOSTEP Schools in the US:
North American Institute of Swiss Watchmaking, Fort Worth, TX
N.G. Hayek Watchmaking School, Miami, FL (not a REC school)
With over 40 years experience in training watch repairers, WOSTEP has achieved international status as a leader in watchmaker education and certification. The support of multiple brands across all segments of the watchmaking industry allows WOSTEP to provide an education of the highest technical standards. The graduate of a WOSTEP Partnership school has the assurance their certification will be recognized by employers worldwide