2015: The Year of Smartwatches
By Aaron Recksiek, CW21
Here we are in 2015, the year many industry commentators have dubbed "The Year of the Smartwatch." There has been a recent, some might say frantic, push by many brands to produce some form of smart technology into a wristwatch package, not to mention the number of brands producing non-watch "wearable technology" (Fitbit, Nike, Jawbone, etc.). As we all know, most watch collectors don't necessarily base their watch buying on useful functionality; rather, they purchase based on prestige and a need to connect with the mechanical world. The big question this year is whether the smartwatch will bring the next generation—a generation that avoids wearing anything strapped to their wrists—to embrace the conventional habit of wearing a watch. Many doubt this will be the case. However, if they do embrace it, this same generation might also discover the joy of the traditional collectible watch and become the next generation of mechanical-watch collectors.
    In this piece I would like to highlight the most intriguing announcements and releases of the year and some of the biggest contenders in this relatively new facet of the industry. We covered some new smartwatches from the Consumer Electronic Show (Montblanc e-strap, Withings Activite Pop, Kronoz ZeWatch, and Guess Connect) in the March HT, so I will not include those here. I am going to approach this alphabetically and not necessarily in order of importance or popularity. Individual brands will be highlighted in bold.
Android Wear. This is the smartwatch version of Google's Android operating system. The software is open sourced and is used by several different companies as the digital framework to go along with their manufactured hardware, similar to the current Android smartphone operating system. The current partners that use the system are: ASUS, Motorola, LG, Samsung, and Sony. The visual appearance varies depending on the brand's desired interface of their watch. There are rectangular and circular cases with a vast variety of case material and band choices. A selection of 1,000+ different watch faces can be changed in an instant. The operating system allows the wearer to access many of the features of the compatible Android device: music, maps, weather, reminders, fitness, texts, and email. Battery life and charging method varies by device, but most of them need to be charged every day, similar to the paired smartphone.
The Apple Watch. By far the most anticipated smartwatch ever produced. There was speculation dating to early 2014 about the possibility of Apple developing a smartwatch, and the official announcement came in September 2014 with delivery estimates of spring 2015. In March 2015 the company announced that pre-orders would start at midnight Pacific Standard Time on April 10, and first delivery would be April 24. Unless they were up in the middle of the night to place their orders as soon as the watches went on sale, most consumers won't see their watches until late May or June. It was widely reported that Apple sold one million watches in the first six hours of the pre-sale. The Apple Watch's success is largely due to three major factors: variation, functionality, and ease of use. There are 38 different variations of the Apple Watch consisting of aluminum-cased models, stainless steel, and hardened 18k gold. The straps and bracelets are quickly and easily changeable and include fluoroelastomer plastic, leather with two different types of buckles or magnetic loop fastening, and two different bracelets— stainless steel link or stainless steel mesh. The use of the Apple Watch requires pairing it with a compatible iPhone, and it can do more than any other smartwatch on the market. It contains a Force Touch Sensor, accelerometer, gyroscope, heart-rate sensor, and barometer. It gives the wearer notifications of a small pulse using a linear actuator. Wearers can access much of the data and many of the apps stored on their phones without having to remove them from their pockets. The downsides are that it requires the wearer to also have an iPhone, connecting with Wi-Fi or Bluetooth 4.0. It will need to be charged every day, via electromagnetic induction, as the battery life is estimated at 18 hours.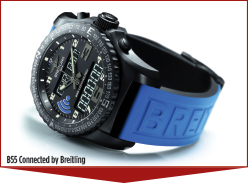 Breitling. The B55 Connected is an extremely simplified version of the modern smartwatch that is still a genuine Swiss-made timepiece. The watch connects via Bluetooth to a compatible smartphone and the new Breitling smartphone app. It still uses the company's B50 caliber SuperQuartz movement, and the smartphone connectivity is there to make the features of the watch easier to use. It can automatically update the displayed analog and digital time based on the time zone you are in. The app also allows the user to control and back up the timers, chronographs, and alarms. The watch is projected to go on sale in late 2015.
Bulgari. We now have some more details about the Diagono Magnesium that we first touched on last month in the Baselworld recap. The watch will contain a Swiss-made automatic movement as well as a near field communication chip that connects with the Bulgari Vault smartphone app. The NFC chip will be used to transmit secured personal data such as making credit card payments, unlocking smartlock doors, and transmitting passwords.
Gucci. The Italian fashion brand partnered with musician Will.i.am to create the i.am+ Smartband. It's an integrated bangle-bracelet style smartwatch with independent 3G capability that will work without connecting it to a paired smartphone. Additional features include front-facing camera for video calling from your wrist, a heart-rate sensor, temperature sensor, and GPS. The smartwatch was announced at Baselworld, but no release date has been set.
H. Moser & Cie. The luxury Swiss watch manufacturer created a huge buzz all around the watch world when they dropped hints of a major "haute horlogerie smart watch" to be announced on March 9, taking place the same day as the Apple Watch unveiling. Words taken from the press release described "a revolutionary creation [that] provides state-of-the-art ergonomics and functionality, a clean interface, selective connectivity and an extremely long battery life." They decided to punk watch collectors by declaring their mechanical watches are the smartest of them all. The entire release was nothing more than a marketing gimmick to debut the brand's new Endeavour Perpetual Calendar Funky Blue, a dual barrel 18,000-beat, manual-wind, seven-day perpetual calendar with a new escapement design, all made in-house.
Hyetis. The Hyetis REDLINE smartwatch RDL-001 is a highly ambitious project by a company trying to manufacture the world's first Swiss mechanical with electronic integrated display smartwatch. The watch was extensively covered back in early 2013, with a projected delivery date by the end of that year, and there have been design and production delays ever since. The endeavor was declared dead by enthusiasts last year, but recent updates from the company have promised delivery in 2015. The first model will contain a Swiss automatic, 48-hour power reserve, 28,800-beat movement, with a smart complications module that will contain an accelerometer, gyroscope, temperature sensor, pressure sensor, compass, humidity sensor, altimeter, and depth meter.
IWC. The eastern Switzerland manufacturer announced that soon all their sports watches, starting with the Big Pilot, will come equipped with IWC Connect, an activity tracker integrated into the strap of the watch. Not a lot of specifics have been announced yet, but the chip will provide full-fledged activity tracking and communicate with a variety of devices. With the announcement, Georges Kern, CEO of IWC Schaffhausen, added: "But, and this is essential, we do not touch our beautiful watches—an 'IWC' stays a mechanical handcrafted timepiece. We've engineered an intelligent design solution which perfectly integrates and underlines our product worlds."
Kairos. Probably the most unique and innovative smartwatch company out there. The spectrum of available products includes the Hybrid Watch: a mixture of mechanical movement, Swiss Soprod A10BV-2 or Japanese Miyota 82S7, and a transparent digital display floating over the analog watch dial. The digital module operates on the Kairos OS software and connects via Bluetooth to Apple iOS, Android, or Windows Phones. It contains touch, gyroscope, 3-axis accelerometer, and gesture-detection sensors. The T-Band: this smartstrap comes in every millimeter size from 18-24mm and can be used with any watch that allows for interchangeable straps. It includes all the functionality of the Kairos Hybrid watch with the addition of a Galvanic Skin Sensor that monitors skin temperature and detects how much sweat your sweat glands are producing, optical heart-rate sensor, and compass. It has the option of a PMOLED display, hidden LED display, or no display at all. All of the sensor data can also be accessed on the paired smartphone app. Kairos also makes mechanical-only watches that can be purchased with plain straps and bracelets, or the Smart T-Band. The Hybrid smartwatch and T-Band both need to be charged every two to three days and connect via a POGO PIN USB charging port and not electromagnetic induction to avoid introducing any magnetism into the mechanical components. The company has an extensive backlog of orders because of the manufacturing challenges and tremendous popularity of the products.
Manufacture Modules Technologie's MotionX-365 Horological Smartwatch Open Platform. This smartwatch tech is a joint venture between Silicon Valley and traditional Swiss watchmaking dubbed Swiss Horological Smartwatches. Starting in June 2015 we will see the release of ten different men's and ladies' models from Frederique Constant, Alpina, and Mondaine that will use this technology. There will be no digital displays and all the watches will have analog hands. If you didn't know any better, you would not suspect they weren't traditional Swiss watches. The smartwatches will connect to an iPhone or Android app, and the smart features will include: automatically syncing and updating date and time; MotionX activity tracking; Sleeptracker sleep monitoring, sleep-cycle alarms, activity alerts, and adaptive coaching. These watches will require no charging and boast more than two years of battery life.
Olio. The Model One is the first product to be produced by this new San Francisco-based company. They have drawn strong comparisons to Apple with their statements that they are dedicated to making products with the highest-quality materials and carefully crafted design that enrich people's lives. The Model One works with both Apple iOS devices and Android smartphones and gives you access to notifications, weather, maps, music, calls, emails, texts, social media, news, sports, finance, etc. The smartwatch also has the ability to pair with other smart devices such as controlling lights, thermostats, locks, and cars. The watch is produced in 316L stainless steel, plain or PVD coated, with link bracelet or leather strap. First deliveries will be in June 2015 and all pre-orders are currently sold out.
Pebble. When they broke the record for Kickstarter campaigns in 2012, raising over $10 million, everyone knew this watch was going to be something special. The Pebble Steel has been the most successful single model smartwatch until the Apple Watch rolled out. The watch pairs with your smartphone—Apple or Android—to access apps and data. This is done through the Pebble app store, which is inside the Pebble app itself. This means that all the data on your phone is not always available on the watch, only the stuff you choose to be made available through the Pebble app. The watch screen is black and white with an e-paper display. This means it can be viewed just as easily in sunlight as in the dark. There are millions of watch faces available for download and extremely easy ways to create your own. The sensors integrated in the watch are a 3D accelerometer, compass, and a light sensor. The watch lasts up to a week on a full charge. In March 2015, Pebble outdid themselves again with another Kickstarter campaign—this time for the new Pebble Time, raising over $20 million. The Pebble Time is a full-color screen version of the classic Pebble with an added microphone sensor. The new watch is available in a variety of different colors of polycarbonate cases or 316L stainless steel, with an extensive selection of easy-to-change straps and bracelets. Most smartwatch aficionados consider the Pebble Time Steel the closest competitor to the Apple Watch.
The Smartwatch Group. They are not so much a watch company as they are an independent smartwatch research firm. They saw a need to compile all the data available relating to the smartwatch industry, such as trends, product offerings, sales figures, technical details, etc. They have compiled all the data into downloadable reports that can be purchased in a basic edition ($2,800) or a premium edition ($3,400). The reports include: market figures data; list of the top 300 smartwatch companies; applications and use cases; key technologies and operating systems; advice for successful projects; analysis of the global hotspots; and share price considerations. The need for the Smartwatch Group arose because few other industries have the growth projection estimates as the smartwatch industry; many industry experts project tenfold growth over the next five years.
Swatch Group. A lot has changed since CEO Nick Hayek dismissed smartwatches in 2013, stating: "Personally, I don't believe it's the next revolution." Since then, not only has the entire industry been scrambling to come up with something, but now the Swatch Group will produce several different offerings of smartwatch technology in the near future. The first release is the Swatch Touch Zero One, mostly a fitness tracking device with viewable data on the paired smartphone app. There is a direct link to beach volleyball (not a hugely popular sport, but Swatch is a sponsor of the International Volleyball Federation). Oddly, an ice-cream cone graphic is used to show the wearer is progressing in his or her physical activity. The more interesting announcement from Swatch is that they plan to introduce NFC chips in several of their brands, ranging from the new Swatch Touch Zero One to the Tissot and Omega brands. The NFC chips will allow the wearer to make contactless payments from a paired smartphone. Swatch has already teamed up with China UnionPay to process payments in that country using the technology. There has been no further information regarding what the full capabilities of these smartwatches will be other than stating that they are "not a consumer electronics company," so a full-blown smartwatch is not expected any time soon.
Tag Heuer. Not much has been revealed about the new Tag Heuer smartwatch. The price will be around $1,400, which is relatively expensive in the smartwatch world. The watch will contain a new, exclusive Intel microprocessor chip; the operating system will be a variation of Google's Android Wear; and they are aiming for a 40-hour battery life. With Jean-Claude Biver, president of the Watch Division LVMH Group and CEO of TAG Heuer, at the helm, there are expectations they will be able to create something that brings Swiss-made smartwatches to the forefront of the smartwatch industry.
Vector. A new tech company is trying to break into the crowded market by offering something unique: a smartwatch with LCD screen and all the normal activity tracking, but with a 30-day battery life, which is achieved by the simplicity and efficiency of their proprietary operating system. The screen is not touch enabled, and the lighting is constantly changing to conserve energy. It connects to a smartphone with an app, just like most smartwatches, and comes in three different variations of case style with a vast array of traditional straps and bracelets.
Victorinox. The brand known for its multi-tool pocket knives and reasonably priced Swiss watches will be releasing a smartwatch in early 2016. Carl Elsener, the great grandson of Victorinox's founder, announced in a Reuters report: "Our concept is something approaching a smartwatch." Elsener did not give many specifics, but said he would like it to have the "opportunity to expand the functions" and "have a long lifespan compared to a mobile phone or a computer."
My Thoughts
Will the smartwatch succeed? Absolutely. We often hear people who don't wear wristwatches say, "I just use my cell phone to tell me the time." We have seen this trend before with mechanical pocket watches. A century ago, people said to the soldiers returning from World War I, "Why would I need to wear a watch on my wrist? I just use my pocket watch to tell the time." This didn't change the fact that while wristwatches were only 15% of all watches made in America in 1920, by 1935 they accounted for 85%. It became much more practical to wear your timekeeping device on your wrist as opposed to in a pocket or pouch. In modern times, with so much technology available, it seems silly for people to dedicate the valuable real estate on their arm to a device that only keeps time. Put the same technology they expect from their smartphone into a wristwatch, and you have the recipe for history to repeat itself. Recently when I was at the theater, a couple in front of me asked the usher for the time. It literally took him 10 seconds of fumbling around in his pockets to pull his cell phone out and give them the time. In the fast-paced future we all envision, this will not stand. For those who never developed a connection to traditional timepieces, a watch that works well with their smartphone will be the natural choice. This is why we will see a growing number of people who have never worn a watch before begin to accept the most personal of devices, the wristwatch—be it smart or otherwise.
Sources
www.techtimes.com
www.jckonline.com
www.ablogtowatch.com
www.watchtime.com
www.cnet.com
www.wikipedia.org
www.nationaljeweler.com
Aaron Recksiek is an independent watchmaker in Salt Lake City, Utah. He is a graduate of the 2008 WOSTEP class at the Lititz Watch Technicum.