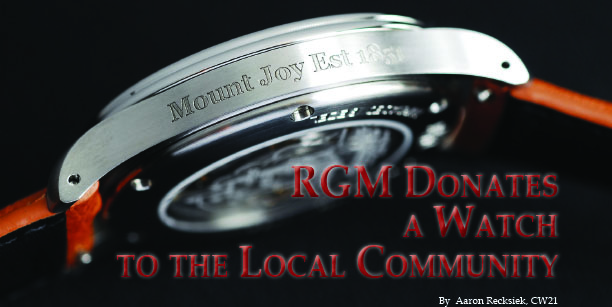 Mount Joy is a borough located in Lancaster County, Pennsylvania, with a population of roughly 8,000 residents. It is also the hometown and headquarters for the famous American watchmaker Roland G. Murphy, whose brand, RGM, is one of the few brands making cases and watch movements where much of the mechanical components are made in the USA. Lancaster County has a rich horological history: it is the original home of the Hamilton Watch Company and the Bowman Technical School as well as the current home to the Lititz Watch Technicum and the Rolex Service Center.
    In September of 2012, a couple of teenagers used gasoline to set fire to the Kids' Joy Land playground in Mount Joy Borough Park. The playground was built in 1994. It took six months to design and plan and was built over the span of five days by 200 community volunteers using $115,000 in donations. The playground occupied about 10,000 square feet of space and was constructed mostly of wood. The arsonists suffered severe burns and were gravely injured in the incident. They were immediately taken into custody and charged after being released from the hospital.

    After three years of planning, designing, and fundraising, the construction of the new playground that will sit where the old playground was destroyed was kicked off on September 22 and completed six days later on the September 27. The town estimated a total cost of $225,000 and has been relentlessly campaigning for donations to meet their goal.
    RGM joined in with many other community businesses in raising money for the project. On September 21 the Mount Joy Rotary Club, the group in charge of leading the rebuilding project, listed a custom RGM Model 151-B donated by RGM on eBay with all proceeds to benefit the playground. The 151-B has an American-made 316L stainless steel case with an ETA 2892 movement. The side of the case is engraved with "Mount Joy Est 1851," and the back crystal is etched with a sketch of the merchant ship the town was named after, The Mountjoy. The auction ended on September 28, with the winning bid at $3,501.
    If you would like to donate to help them reach their goal, please contact them at: kidsjoyland@gmail.com or on Facebook: www.facebook.com/KidsJoyLandOutOfTheAshes
Sources:
www.kidsjoylandmountjoy.blogspot.nl
www.lancasteronline.com
www.rgmwatches.com
www.watchtime.com
Aaron Recksiek is an independent watchmaker in Salt Lake City, Utah. He is a graduate of the 2008 WOSTEP class at the Lititz Watch Technicum.