A survey course for the new or prospective watchmaker covering the basic skills and techniques used by the modern watchmaker. This class is perfect for anyone thinking about entering the profession of watchmaking or for the individual who just wants to gain a better appreciation for the art of watchmaking.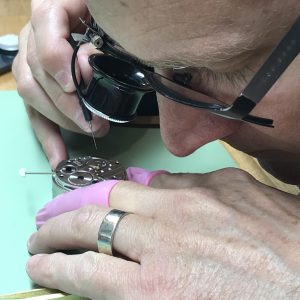 This course is a foundational course ideal for someone who is a collector,  new to watchmaking or wanting to know more about how a watch works.
Our week long introduction to watchmaking class is a week long full curriculum which walks you through a number of watchmaking fundamentals including movement tech guides, cleaning and lubrication, endshakes, the ETCACHRON regulation system, timing, dialing and casing as well as fundamental watchmaking nomenclature and best practices.
There are no prerequisites for this class and we provide all the tools needed for the class, with the exception of a watchmakers loupe.  A watchmakers loupe can be purchased through a supply house.  An Asco or Bergeon loupe with a removable bezel, for cleaning purposes, is the ideal purcahse in a 2.5 focal length, 4 power loupe.  A wire for the loupe should also be purchased.  If you have any questions feel free to reach out to Jason Champion our education director at education@awci.com or at 513-367-9800 ext 303
Prerequisites: none
Cost: $1095 for AWCI members $1245 for non-members
Class Schedule: 5 days, Monday – Thursday 8:00 a.m. – 5:00 p.m. Friday 8 a.m. – 3 p.m.
Feel free to contact our education director Jason Champion with any questions at education@awci.com or at 866-367-2924 extension 303.